TOP : In general there is an tear of the retina before the detachment.
DOWN : Normal fundus with normal situation of the retina.
The retina is formed by leaves  as paper CLINEX, which can part: the leaf intern says sensory retina because it contains cones and sticks, parts from the later(posterior) said leaf(page) pigmentary epithelium.
It happens without visible reason says primitive or idiopathic detachment, either further to a trauma of the eyeball or further to an inflammatory or tumor eye disease.
In the primitive detachment there is a succession always the same:
1. Prédisposantes damage
2. A retinal tear at the level of the lesion
3. A partial detachment,
4. Then total
Where from the interest to make a bottom of systematic eye at the amenable persons, in particular the myopes. These damage being traitables by the Laser argon, which is arranged in circle around the damage to confine them, isolate them besides from the healthy retina and weld are various retinal leaves(pages) between them.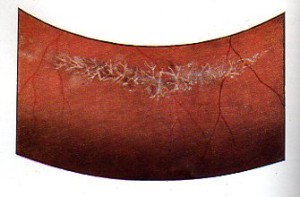 Lesions in the periphery of the retina predisposing to tear visible in the examination of the fundus.